The ISA designed its Fast Track Fellowship to offer more than just a cash prize. It is the ISA's intent to develop screenwriters with promise, and while it all starts with a script, a career will be made over a long period of time of building relationships and the creation of many scripts. Fast Track is here to give writers the tools and experience that will aid in that long-term career success.
The Fast Track Experience:
Fast Track Fellow Andy Byrne prepping for his Lionsgate meeting
Andy Bryne, Felicity Wren (ISA Dev Leader) & Fellow Lily Mercer
Lily, Damien Chazelle (Writer/Director WHIPLASH), Andy & Max Timm
Andy, Tawnya Bhattacharya (Mentor) & Lily
Press: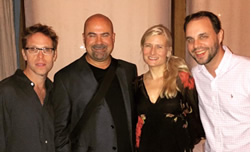 Moviebytes just interviewed David Baugnon from Fast Track II. Check it out!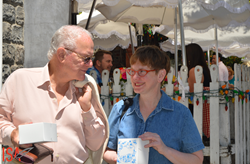 ISA Fast Track Earns Emerging Screenwriters Options and Agents
Read More>
In the first 4 Seasons of Fast Track, 5 Major Success Stories:
Chris DeWan, Fast Track II Fellow signed an Option with Indomitable Entertainment!


Since Andy Byrne was chosen for the Fast Track Fellowship (III) for his sci-fi TV Pilot Disconn, he recently signed with literary manager, Chris Watkins of Catapult Entertainment Group, has been offered writing assignments, and is working on new projects including further development of Disconn.


Since Lily Mercer was chosen for the Fast Track Fellowship (III) for her TV Pilot Drama No More Heroes, she's been asked to pitch her screenplay to a high profile executive and was offered the position of Producing Director for the Humanitas Prize Play Festival.


Melissa Birks, Fellow of the very first Fast Track Fellowship, signed with The Savage Agency!


Evan Cooper, Top 10 Fast Track II screenwriter signed with manager, Kailey Marsh (creator of The Blood List)!


Fast Track IV Fellows are well on their way with pending interest from industry reps they met at their November meetings.
"It was an absolute pleasure participating in Fast Track. We had a very productive meeting where we discussed everything from the state of the business, to ways of getting discovered as a new writer. I loved their enthusiasm and passion for the craft, and I found the overall experience to be very rewarding."
- Jonathan Weber, Key Creatives
"That was such an amazing treasured experience [with] both the mentors and you lovely folks. You do realise that you guys helped change my life... Honestly made a profoundly positive impact."
- Andy Byrne - (2016 Fast Track III Fellow)
"I never will forget that my life started changing when you picked me for the Fast Track Fellowship. So much has fallen into place and I am forever grateful."
- Lily Mercer - (2016 Fast Track III Fellow)

"The fellowship was a great chance to meet a ton of people I would never have had access to."
- Chris DeWan - (2015 Fast Track Fellow)
"Despite entering many screenplay competitions that boasted a judging line-up of 'connected professionals' and winning on over twenty occasions, not one substantial follow-up had come of them. I was close to putting down the quill permanently. However, after posting my scripts on NetworkISA out of the blue Max got in touch about one of them, sent a long pick-me-up email after I told him I was about to give up and within a month had hooked me up with a Hollywood production company that is a great fit for the script. After first having a shopping agreement we are now negotiating an option agreement. This would never have been possible without Max and the Development Program."
- Steven Prowse, Writer/ISA Development Program Screenwriter
"The ISA has been instrumental in the momentum of my career. By submitting my projects to high level companies and executives, I have received exposure that propelled me to the next level. I have a team working for me. I love the ISA and their superhero director of outreach, Max Timm!"
- Jamie Anderson, Writer/ISA Development Program Screenwriter
"The Development Program truly walks the walk. Their belief in screenwriters is not just lip service. They not only care enough to help develop your scripts but then they help get them into the hands of managers and production companies. It goes so far beyond what other screenwriting websites do, some of them which do a lot, but the ISA does more."
- Jeff York, Writer/ISA Development Program Screenwriter
"I thought winning and placing in a number of national screenplay contests would open the doors of Hollywood immediately. It didn't. But it did introduce me to Max Timm and the great people at the International Screenwriters Association. More than just another writer's group, the ISA promoted my screenplays to their wide range of connections, including film producers and even literary managers looking for my style of writing. They also made logline suggestions, along with ways to make my screenplays more marketable. I'm proud to be an ISA member, and to work with a group who works hard for writers on the rise."
- Vin Morreale, Writer/ ISA Development Program Screenwriter
"My experience with the ISA has been truly amazing. They have been incredibly supportive in the most practical way imaginable - by getting CHARLES DICKENS'S GHOST CLUB directly into the hands of respected production companies who can genuinely get it made. The script has now been optioned by Eclectic Pictures as a direct result of the ISA's tireless efforts."
- Mark Robertson, Writer/ISA Development Program Screenwriter
"The ISA has been extremely passionate about helping my career reach the next level. They've been sending my samples all around town, getting industry eyes on my work. They're support has been invaluable!"
- Derek Asaf, Writer/ISA Development Program Screenwriter
Other Contests Sponsored by Company
Tags:
Consultant
,
Representation
,
Trip / Travel
,
Other
,
Feature
,
TV Pilot
,
USA
,
Africa
,
Antarctica
,
Asia
,
Australia
,
Europe
,
North America
,
South America
,
Feedback for an add'l fee
,
We accept Student writers
,
Action
,
Adventure
,
Animation
,
Biography
,
Children
,
Comedy
,
Crime
,
Drama
,
Family
,
Fantasy
,
Historical
,
Horror
,
Mystery/Suspense
,
Romance
,
Science Fiction
,
Sports
,
Thriller
,
Western
,
Network / Industry Connections
,
Adaptation